---
---
 Ali Eteraz • Ashraf Ghani • Vandana Shiva • Dekila Chungyalpa
---
---
The College of Wooster is pleased to announce the 2010 Wooster Forum: South Asian Perspectives. The increasing global influence of South Asia provides an opportunity for a multidisciplinary examination of the region's dynamic role in the 21st century. You will be invited to enrich your own perspective upon some of the environmental, political and economic opportunities and challenges that face individuals and societies in the region.
---
Ali Eteraz
---
Children of Dust
Tuesday, September 21
(7:30 pm, McGaw)

Ali Eteraz was born in Lahore, Pakistan, and was raised in the Dominican Republic, Pakistan and United States. He is a graduate of Emory University (High Honors Philosophy) and Temple Law School. "Children of Dust" (2009) is  a memoir about his coming of age and struggle with his identity as a Muslim, set in rural Pakistan, in the American Bible Belt, and the modern Middle East.
---
Check out the links below for more information on Ali Eteraz:
---
Ashraf Ghani
---
Afghanistan: Owing the Present, Building the Future
Monday, September 27  
( 7:30 pm, McGaw) Ashraf Ghani studie
d Political Science at the American University of Beirut and received his M.A. and Ph.D. in Anthropology from Columbia University. He has held various positions at the UN and World Bank. As a native of Afghanistan, he agreed to serve as an economic adviser to President Hamid Karzai and as  the Chancellor of Kabul University. In 2009, he ran for President of Afghanistan and is currently the chairman of the Institute for State Effectiveness. His recent book is "Fixed Failed States: A Framework for Rebuilding a Fractured World" (2008). Dr. Ghani's lecture is presented in conjunction with the Inamori International Center for Ethics and Excellence.
---
Check out the links below for more information on Ashraf Ghani:
---
Vandana Shiva
---
Sustainability in South Asia
Wednesday, October 13
(7:30 pm, McGaw)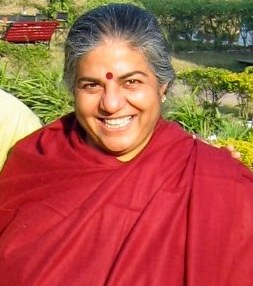 Vandana Shiva is a physicist and environmentalist. Early in her life, she became active in the Chipko Movememnt, a women's based group committed to saving the forests of India. After receiving her Ph.D. in Physics, she returned to environmental issues. She has argued that environmental problems need to be understood in a  global context and that effective solutions need to be integrated with issues addressing the empowerment of women and international development. Her books include "Soil Not Oil: Environmental Justice in an Age of Climate Crisis" (2008), "Earth Democracy: Justice, Sustainability, and Peace" (2005), and " Stolen Harvest: The Hijacking of the Global Food Supply" (2000).
---
Check out the links below for more information on Vandana Shiva:
---
Dekila Chungyalpa
---
Innovative Conservation in South Asia
Tuesday, October 26
(7:30 pm, McGaw)
Dekila Chungyalpa is a leader with the World Wildlife Fund (WWF) and a 1997 College of Wooster graduate. She received her M.A. in Sustainable Development from American University. Chungyalpa began working for WWF in the Eastern Himalayas and South Asia. Since 2005, she has led WWF's efforts in the Mekong region. Her experience working with local communities and designing practical solutions at multiple scales has enabled her to address the diverse threats facing the Mekong region, including rapid hydropower and road  development, climate change, agricultural expansion, and wildlife and timber trade. Fluent in five languages, Chungyalpa has helped to establish programs that benefit both local communities and wildlife.
---
Check out the links below for more information on Dekila Chungyalpa: